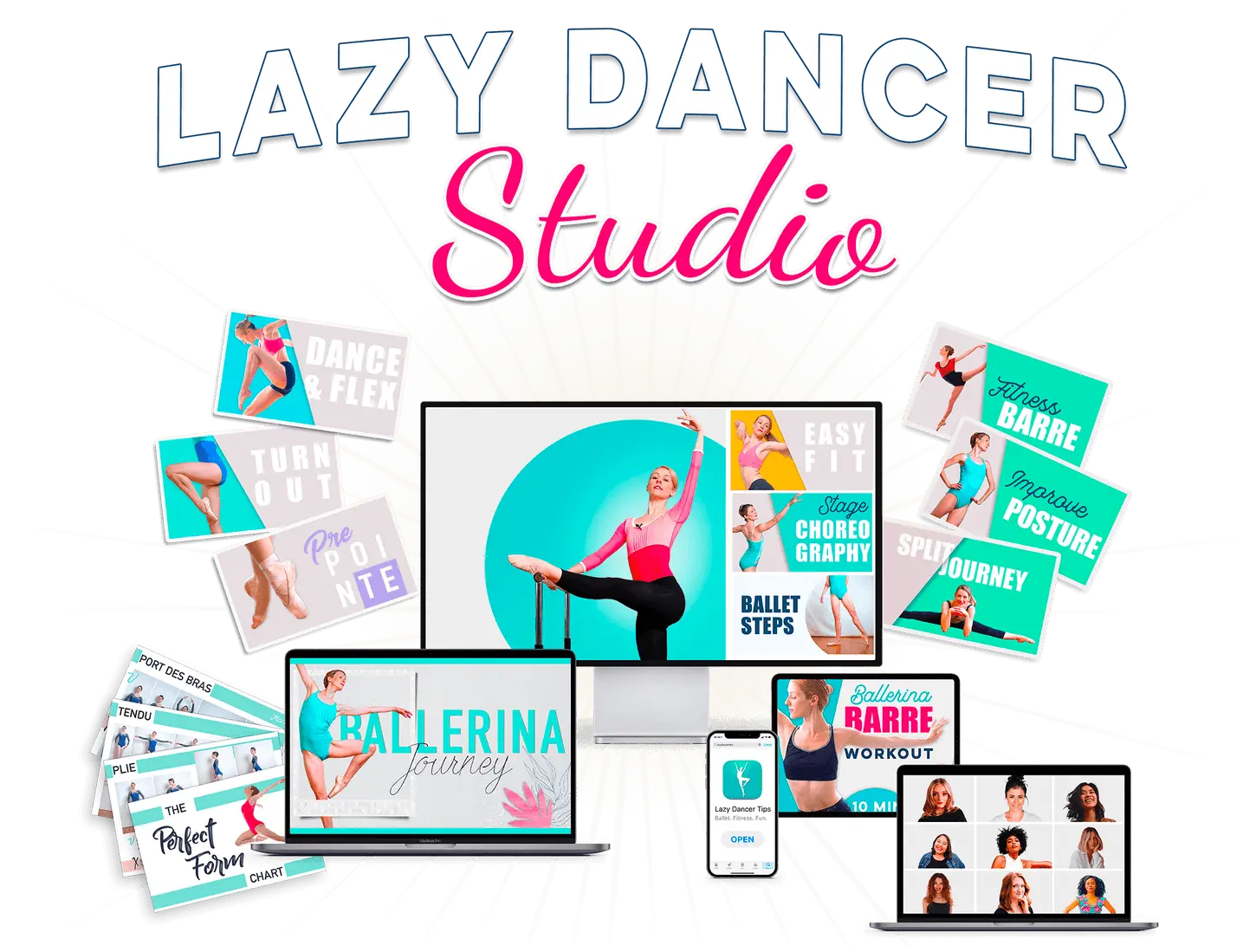 JOIN THE WAITING LIST
and be the first to know
when doors open again for new members
Your Data is Safe and Protected With 256bit Encryption
If adults can go to University, learn piano, play golf, dance salsa, learn to cook and become chefs, learn to swim, run a marathon and still succeed even if they haven't started as kids, why don't they try ballet as well?
If all these physical and mental exercises are good for the body and soul,
why can't ballet be as beneficial?
BALLET HAS ALWAYS BEEN SEEN
AS A BIG TABU
and people believed
Yes, there is a big lie in the world of adult ballet.
Actually three big lies
Plus you can learn the skill of confidence that you can show off in your everyday life.
After all, the whole world is a stage.
AS A FULL MEMBER OF THE LAZY DANCER STUDIO,
YOU GET ACCESS TO OUR WORKSHOPS CLUB.
Once a month, I will release a new targeted ballet workshop to help you move forward in your ballet journey.
Every month we concentrate on different ways of moving, types of ballet classes, techniques and conditioning.
you can join our amazing community and dance together in our own private home studio. Classes are recorded in Full HD and you can catch them all when you can. Plus Alessia will answer all of your questions during the Q&A.
SOME OF THESE WORKSHOPS
WILL BE...
Because I cannot coach every single one of you individually, or travel around the world in a click of fingers, The Lazy Dancer Studio is
Join The Waiting List
and be the first to know
when doors open again for new members.
Your Data is Safe and Protected With 256bit Encryption
/ Control your Basic Technique
Classical Ballet Barre and Centre with Final Reverence and Stretching.
/ Extension and Turnout
Control your muscles, hold your legs above 90, and perfect your overall technique.
/ Advanced Ballet
Push boundaries, and discover new steps and ways of moving like a professional ballerina.
/ Contemporary Ballet + Choreography
Learn to move your body in a completely different way with contemporary ballet.
/ Intermediate Choreography
A Choreography that will improve your confidence and will show the best of your potential.
/ Fitness Barre
Elongate, shape your muscles, feel the burn and sweat it all out!
/ Splits Unlock
How to achieve them safely and Fast and without pain.
/ Improve and learn new jumps
Fit Barre/Centre to understand the ballet technique behind how jumps can become second nature.
/ Epaulement and Port de Bras
How ballerinas can communicate fluidly with hand gestures and arm movements.
/ Pointe Work for Beginners
Learn how to make your feet stronger and look beautiful. No more sicles, cashews or floppy extremities.
/ Musicality
Learn to pick up steps quickly and use the music to your advantage.
/ Christmas Workshop
A Contemporary Ballet Centre with final Reverence and Stretching to let your hair down, feel free and enjoy the festive vibe!
Join The Waiting List
and be the first to know
when doors open again for new members.
Your Data is Safe and Protected With 256bit Encryption