Ballet can be scary and intimidating,



but it's a discipline that only needs to be understood.
---
Following the right path will allow you to express your
 passion, femininity, elegance and joy for moving your body. 
(without the overwhelm or the judgment you may find in
in-person ballet classes).
---
1|  You'll start from the very beginning
even if you are an advanced dancer. If we never refresh our foundation, we can't really call ourselves advanced, can we?
 2|  You'll be guided 
on technique, practice, ballet history and how to take care of your body before and after the training.
3|  You'll get asked to complete assessments
to self-evaluate your progress and level up to the next rank.
4|  The community
will be the place where you share your progress, ask questions, upload videos to be reviewed and cheered on.
 5| Only support and positivity allowed. 
The Ballet world has a bad reputation for being judgmental.
We don't tolerate judgment at the Lazy Dancer Studio. You're in good hands.
---
 It's a full-on journey for ballet lovers 


who are tired of only "watching Ballet" online.
Let's start training like a Ballerina and
fulfil that childhood dream today. 
All the dancing
you craved for!
 ON-DEMAND 
The Ballerina Journey will gradually
guide you through all you need but
there are "side quests" you can embark
on, whenever you feel ready.
Dance anytime,
anywhere with the
LAZY DANCER TIPS

APP
Have all the content, community and plans at
your fingertips, anytime, anywhere.
---
Computer

Mobile

Tablet

Smart TV casting from the app
Hi, I'm Alessia,
your Ballet Coach.
Since I was a child I loved dancing and nothing makes me more joyful than being on stage, expressing my emotions.
After 20 years of professional ballet career, I realised that there was something terribly wrong with the world of Ballet.
---
This beautiful discipline has always been kept secluded to anyone who's not "perfect".
I was never "perfect" and I had to elbow my way up to become a professional.
---
To me Ballet should not be a fight or a reason to feel wrong, too old, or too unfit to perform it.
This never felt right to me.
The way Ballet uses your body in such a complete way that no other discipline can top it up. Why such a magical art was being kept to the public, I never understood.
Why all that judgment to people who only wanted to dance ballet just for the joy of it?
I'm here to change this and everything started with the Lazy Dancer Studio.
By the way, if you're curious about my career, here's a snippet for you.
Alessia Lugoboni has 20 years of professional ballet experience from training at the English National Ballet School and the New Zealand School of Dance to her successful career as a ballerina at The Royal New Zealand Ballet and New English Ballet Theater. She danced in incredible theaters like at Royal Opera House and Sadler's Wells.
She also performed in the London West End in Cabaret the Musical with Will Young, Phantom of the Opera, and The Most Incredible Thing by Pet Shop Boys.
"I'm not going to list all the roles, choreographers and people I've danced with otherwise it'll take days to read. You can find all of this sprinkled throughout the Ballerina Journey 😉 See you inside Love, Alessia"
How does the Lazy Dancer Studio differ from the Ballerina Dream Program?
Do I need any equipment such as a ballet barre?
Is the Lazy Dancer Studio right for someone that has never done ballet before?
What if I'm not tech savvy? How does the online subscription service work?
Will you dedicate time to me if I have a specific ballet question?
Will I bulk up with your exercises?
I workout in a space with no internet or travelling where there's no connection. What do I do?
I am 40-50-60-70 and not very coordinated nor flexible. I'm looking for a program that can elevate more muscle usage to sculpt a better figure without creating injuries. Is there hope for me?
I'm not an adult but I'm a beginner teenager, with the goal of making ballet my career. Can I still join?
Can I really learn ballet online?
Can I watch the videos on my TV?
I have trouble with self-motivation and staying focused. Is the Lazy Dancer Studio right for me?
I have a busy schedule - will this community take up a lot of time?
I'm having technical problems with the Lazy Dancer Tips App. Who do I contact?
What is the cancellation policy?
Ready to express your passion, femininity and elegance?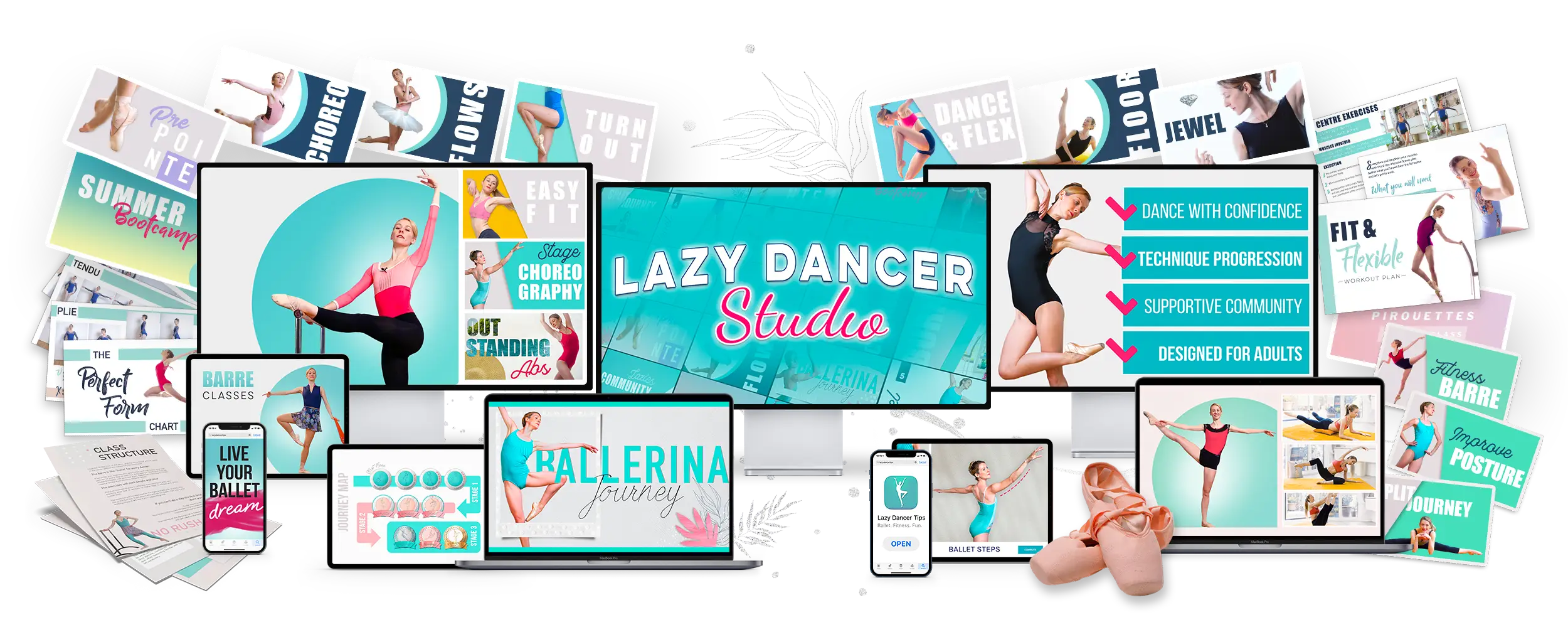 Get immediate access and
start dancing like nobody's watching